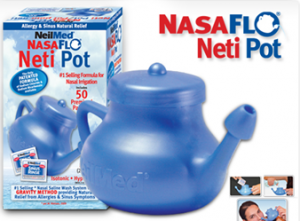 You may ask, what is a Neti Pot? A neti pot is a small pot that looks somewhat like a genies lamp. It is used to hold a solution that is used to clean the sinus cavities. Many people use neti pots. They can be bought at your local drug store in the sinus section. Neti pots have been used for many years outside the United States. They have become more popular as people want to take a more active role in their health and are tired of taking medications that have unwanted side effects.
Neti pots are very easy to use and have great results with handling sinus symptoms. They work by pouring the saline solution in one nostril and it will come out of the other nostril. This is a very simple and an easy process to do. Directions come with your neti pot. Children can also be taught how to do this procedure. Your neti pot will come with packets of saline solution.
This is normally what is recommended and works well, but you can super boost your neti pot! There are times when your symptoms will not respond to the saline solution alone. To super boost your neti pot, add the following items.
Use your saline solution. (

Do not

use any table salt or sea salt as this will burn.)
Use one tablespoon of Hydrogen peroxide.
Three (3) drops of Iodine (This would be  "Iodine Tincture "  3% U.S.P. this is found in the antiseptic department of your local drug store. It is use as an antiseptic to put on skin cuts. It will leave a red stain on your skin.) DO NOT USE ANY OTHER TYPE OF IODINE.
¼ to ½ tablespoon of baking soda
Use filtered, room temperature or warm water. Stir the solution until thoroughly mixed.
If you use the above items you will super boost your neti pot and make a powerful remedy to kill bugs like virus, bacteria and yeast that all have a tendency to "hangout" in the sinus cavities. Using the above remedy is safe and effective for any sinus conditions such as bacterial infections, allergies, environmental irritants, facial pain or pressure. This will also lower the need for antibiotics and nasal sprays.
Research has supported the use of neti pots to help sinus conditions. A neti pot is to be used as an adjunct to help support sinus health, not as a cure all. If you are constantly or frequently having sinus troubles even when you use your super boosted neti pot there is an underlying problem that needs to be addressed. You should seek the help of a health care provider.
Dr. Foley is an Advance Nutritionist/ Chiropractic physician that specializes in nutritional rehabilitation of chronic and hard to manage health conditions. He has practiced over 25 years, lecturing weekly on how to get rid of belly fat, Hypothyroid, Hashimoto's Autoimmune, Gluten Sensitivity and many other health topics. Dr. Foley takes a natural approach that is safe and effective. All health programs are tailor made for the individual person. You can contact Dr. Foley at 5602 Nolensville Pike Nashville, TN 37211 Office Phone: (615) 333-0021 or drbjfoley@comcast.net