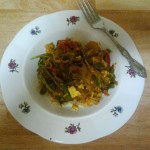 serves 8
4 clovers garlic, finely chopped
2 tablespoons finely chopped fresh mint
2 tablespoons chopped freas bail
2 tablespoons chopped cilantro
2 cups carrot juice
1 medium red pepper, seeded and thinly sliced
1 large eggplant, peeled if desired and cut into 1-inch cubes
2 cups green beans cut into 2-inch pieces
3 cups sliced shiitake mushrooms
1 (8-ounce) can bamboo shoots, drained
2 tablespoons of no-salt seasoning
1 teaspoon curry powder
2 cups *watercress leaves, divided
6 tablespoons unsalted natural peanut butter or to taste
2 pounds firm tofu, cut into 1/4-inch-thick slices.
1/2 cup unsweetened coconut milk
1/2 cup raw cashews, chopped
(Optional )
You can make it hotter  by adding Cayenne pepper to taste.
Serve over *quinoa or brown rice.
In a large skillet or large pot add garlic, ginger, mint, basil, cilantro, carrot juice, bell pepper, eggplant, mushrooms, bamboo shoots, no-salt seasoning, curry powder, and 1 cup of the watercress. Bring to boil, cover and simmer, stirring occasionally, until all the vegetables are tender. Mix in the peanut butter. Add coconut milk and heat through. Top with the remaining one cup watercress and the cashews. Note: frozen vegetables can be used in place of fresh.
*Watercress: Is the most ancient, green-nutrient-dense vegetable known to man. Watercress is a super veggie. Ounce for ounce, watercress has more vitamin C than an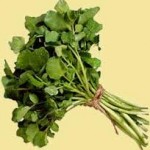 orange and more calcium than whole milk. Watercress is packed with beta-carotene and vitamin A, and it is better source of vitamins C, B1, B6, K, E, Iron, Calcium, Magnesium, Manganese, Zinc and Potassium than apples, broccoli and tomatoes. Watercress is Mother Natures's version of a natural, good tasting multi-vitamin.
*Quinoa: (pronounced keen-wa)  Is a grain that contains more high quality protein than any other grain. Quinoa stands alone as a complete protein grain.  Quinoa is gluten free. The National Academy of Sciences calls it "One of the best sources of protein in the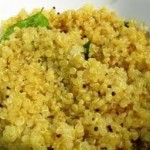 vegetable kingdom."
Quinoa Basic Cooking  Instructions: Place 1 cup quinoa and 2 cups of water in a 1 1/2 quart saucepan and bring to a boil. Reduce to simmer cover and cook until all water is absorbed (10 to 15 minutes). When done, the grain appears soft and translucent and the germ ring will be viable along the outside edge of the grain.